Runway MY Way
Yanni's Guest Diva Edition: Afrocentric Chic!
Tribal. It's one of this season's hottest trends and I simply adore it! Batik, African Wax Prints, Animal Prints. It's all so delicious! To me this whole Tribal deal it isn't just a trend. It's part of my personal style! It's my way of subtly screaming "I'm Black and I'm Proud!" and also a way to pay homage to the motherland.
Here's a couple of ways to keep yourself Afrocentric Chic!
1.
Accessories, accessories, accessories: I love to incorporate one of a kind pieces that embody the spirit of Africa. A few of my favorite affordable jewelry designers are:
~
Aku of Kezzmit:
Paperclay earrings with primitive stampings.
~
Camille of Peace Images
: Fierce! Camille serves up fashion forward Afrocentric
~
Rachel of Rachel Stewart Jewelry
: Rachel incorporates the images of iconic Black
odes to old school slang, and bangin' prints in line.
2
.
African Wax Prints: Colorful bold statements. These prints are not for the faint of heart as they will
demand the attention of you and everyone around you. Here are a few great uses of African prints.
DIY: Find a piece of African fabric that you like? Be Creative!
~Throw on a plain tee, drape the fabric over your shoulders, and belt it.
~Having a bad hair day?
Use a bold print as a headband or headwrap.
~Loving your outfit but it's missing a certain something? Fashion a
cute
belt
from a wax print for an instant lift.
I hope that I have inspired a few of you lovies out there.
Take care and remember to always stay Afrocentric Chic!
~Audrey (Yanni's Guest Diva)
Labels: Afrocentric Chic, Animal Prints, Boxing Kitten, Etsy, Lookbook.nu, Rachel Stewart, Yanni's Guest Diva Edition
I ♥ Fedora's
Hey luv's. My consistency has been a bit sketch the past few weeks and I apologize. New movements going on in this good old world of mine and I was just trying to keep up ;-).
Anyways, I need a new fedora and felt the need to share my thoughts on why
I
♥ fedora's so much. Now don't get me wrong, I dig several types of hats so there is no discriminating over here. But fedora's hold a special place. I honestly do not remember when I started rocking hats, but I do remember when I looked one day and saw my own personal collection. I also remember the day I purchased my first fedora and I haven't looked back since.
Fedora's are a cute default accessory: good for throwing on just to run out and perfect for a trendy date night. It's a versatile piece.
Name: BDG Shirting Stripe Fedora
I chose this particular fedora for my fierce find because the combination attracted me to it. The blue and white stripes with a touch of cognac is a nice summer touch. Cognac has been a regular in my closet for several months so this would be a perfect addition. UrbanOutfitters and Forever21 have some really cute selections (online and in store). I really dig the variety at vintage shops and flee markets so I get from them as well. Not to mention there are a number of independent websites and companies that add fedora's to the mix each season in appropriate materials. I ♥ Fedora's.
Now as an added bonus this week I'm going to be featuring another
"Yanni's Guest Diva"
post so stay tuned for that.
Labels: Fedora's, Fierce Find, UrbanOutfitters, Yanni's Guest Diva Edition
A Women's Right To SHOP!
I was laying down watching one of my favorite episodes of Sex and the City: Season 6 (
A Women's Right To Shoes)
and it got me thinking about some stuff. One of my pet peeve's are when people say to me "
you shop too much".
Like really? What is shopping too much? We all have our faults in life, but I really wonder why is shopping automatically a bad one for most people? Now do not get me wrong some people shop beyond their means. That becomes another problem (that we shall talk about at a later time), but what is wrong with shopping when you enjoy it and it makes you look and feel good? Andddd you can afford it? Not a damn thing.
Most people use shopping as a form of therapy. Retail therapy if you will. If done correctly it is a very a healthy thing that
ALL
people should engage in if they have not already. Especially when you work hard everyday you should be able to reward yourself with something. Once a week? Every two weeks? Once a month? Adding to your wardrobe and being therapeutic through shopping is not a crime.
This brings me to my title: A women's right to shop. At the end of the day when people say you shop too much the tactless thing to say would be "
and you don't mind your business enough"
. The witty thing to say would be "
and?"
But the best thing to say would be "
you don't shop enough :-)".
Every gal has a right.
Yanni.
Labels: Sex and the city, shopping
Who Wears Short Shorts?
Contrary to the rest of the female population up until recently I did not like shorts. Bermuda shorts I could wear, but short shorts I've always been on the fence about them. Now do not get me wrong, I adore some of the cute shorts that have been out in past seasons and this season as well, but I was convinced that short shorts did not look good on everyone. However; I had to re-evaluate my mind set on that. Shorts are very similar to anything else, but we'll equate them to pants. Finding the right pair of pants whether it be jeans or slacks you have to focus on a certain kind of fit for your body. The same goes with short shorts. Since short shorts are short you have to pay attention to the cut of them. We are dealing with very little material so the cut and shape are important. When dealing with shorts it is crucial to be aware of where they actually fall on your thigh. Like anything else though, determining the fit of the shorts of your choice will ultimately help in the decision making process.
With all that being said, this year I recently started adding some short shorts to my wardrobe. I have a few rompers (which I adore) and a few other short pieces. It definitely took me a while to get to this point, but I am happy I did. I am starting to realize that short shorts are not that bad.
I recently added these linen shorts to my wardrobe and they are a great find.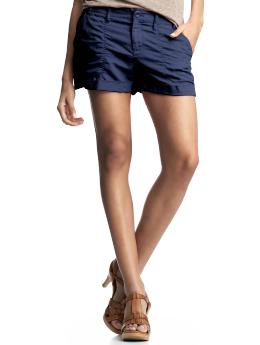 Color: Basic Navy/Hawaiian Red/Khaki/Tarnished Gold
At first glance I really was not a fan of these, but once I tried them on I really liked the fit and cut of it. They are one of those pieces that definitely looks better in person. I like them because I like linen especially for this time of year and they are simple and chic. They are reasonably price and with the right accessories they can be dressed up or down. A good fierce find for the week. I was very happy with this purchase.
Labels: Gap, Rompers, Short Shorts
Subscribe to
Posts [Atom]